Learn by Doing - The Joy of Impermanence Anitya Project
---
Posted on November 23, 2019
---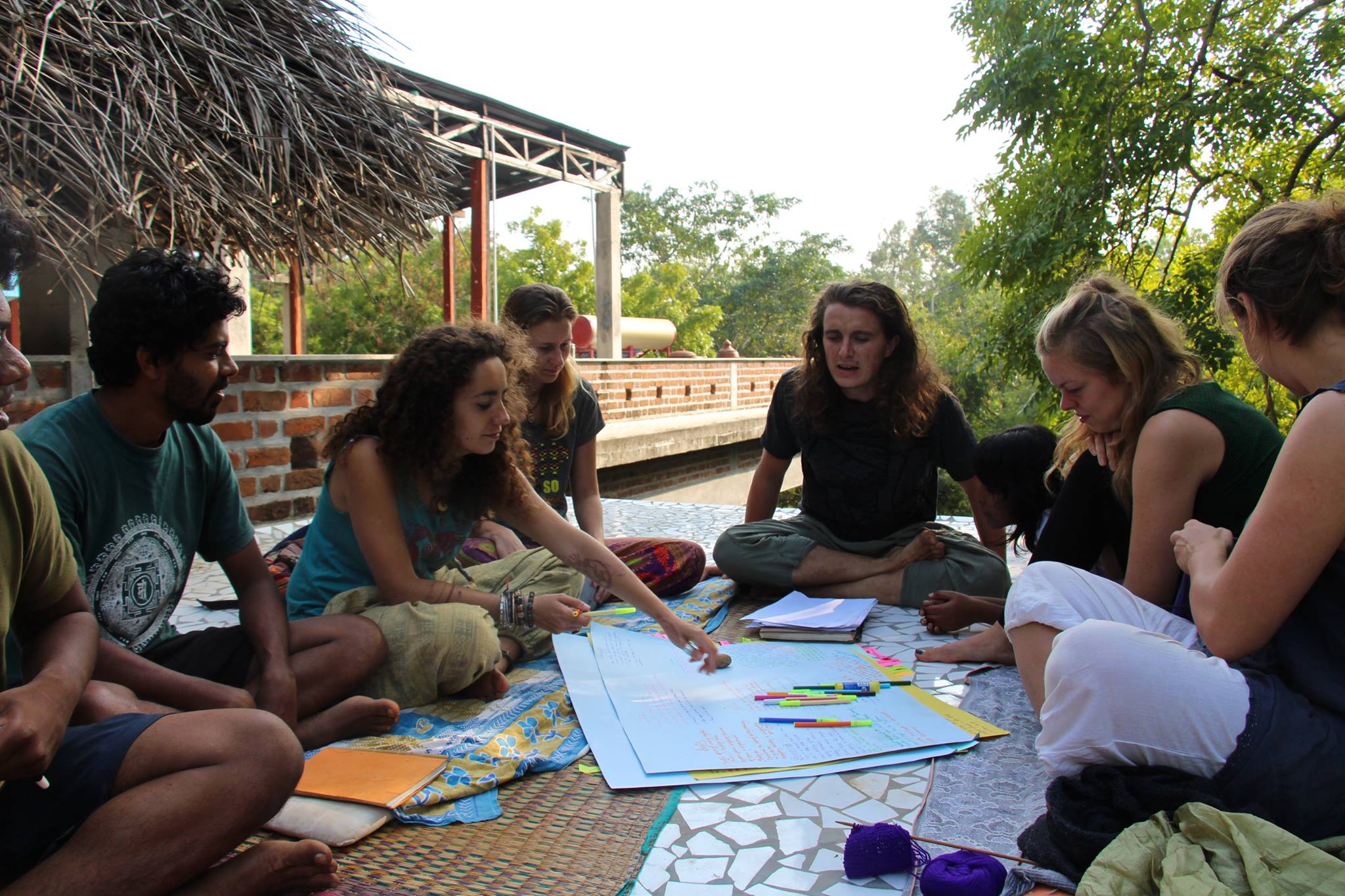 ---
JOI Anitya is the first community to fall under the wider JOI umbrella. We are a Core Team of 9 people (one being an exuberant 8 years old!), all from very different backgrounds and having previous experience in community life.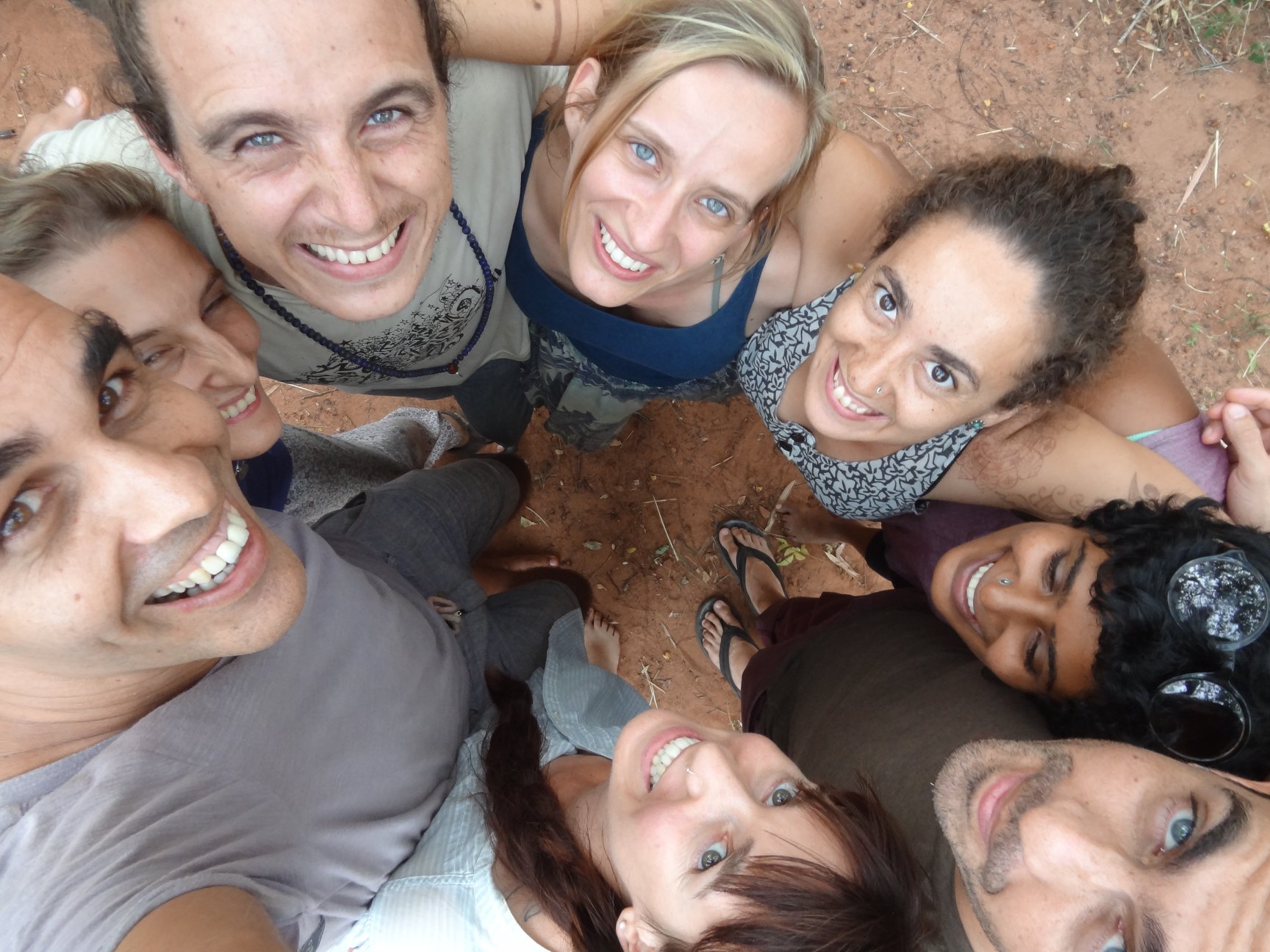 In the physical dimension, as a community we aim to: build impermanent, ecologically sound structures with the Do-It-Yourself (DIY) spirit, to produce food for our consumption, to use renewable energy, to recycle wastewater, to reduce waste, use dry compost toilets and green practices as much as possible. Restoration, attention to watersheds, following the contours and slopes of the landscape, and respecting the diversity of nature are guiding principles. For this, we have been lucky to have the rich archive of Auroville experience to draw from.
In the social realm, within the community, we are building demountable pods for our living space, and sharing kitchen and toilets partly for ecological reasons but also to design spaces so as to create more interaction with each other. We have regular community meetings for decision-making and aim for regular social gatherings and awakened communication spaces. Our external aim is to protect Auroville lands from encroachment and to build healthy relationships with the neighbouring village of Edayanchavadi.
In the spiritual realm, the work is both individual and collective. All of us have chosen to live in Auroville and to practice integral yoga. We have our own paths even as the aspiration and work towards progress is a collective glue. The work is also one of stewardship with detachment, to uproot ourselves after an agreed-upon time and rebuild in another place.
The journey so far:
"To be truly free one must take on the basic conditions as they are—painful, impermanent, open, imperfect—and then be grateful for impermanence and the freedom it grants us."
- Gary Snyder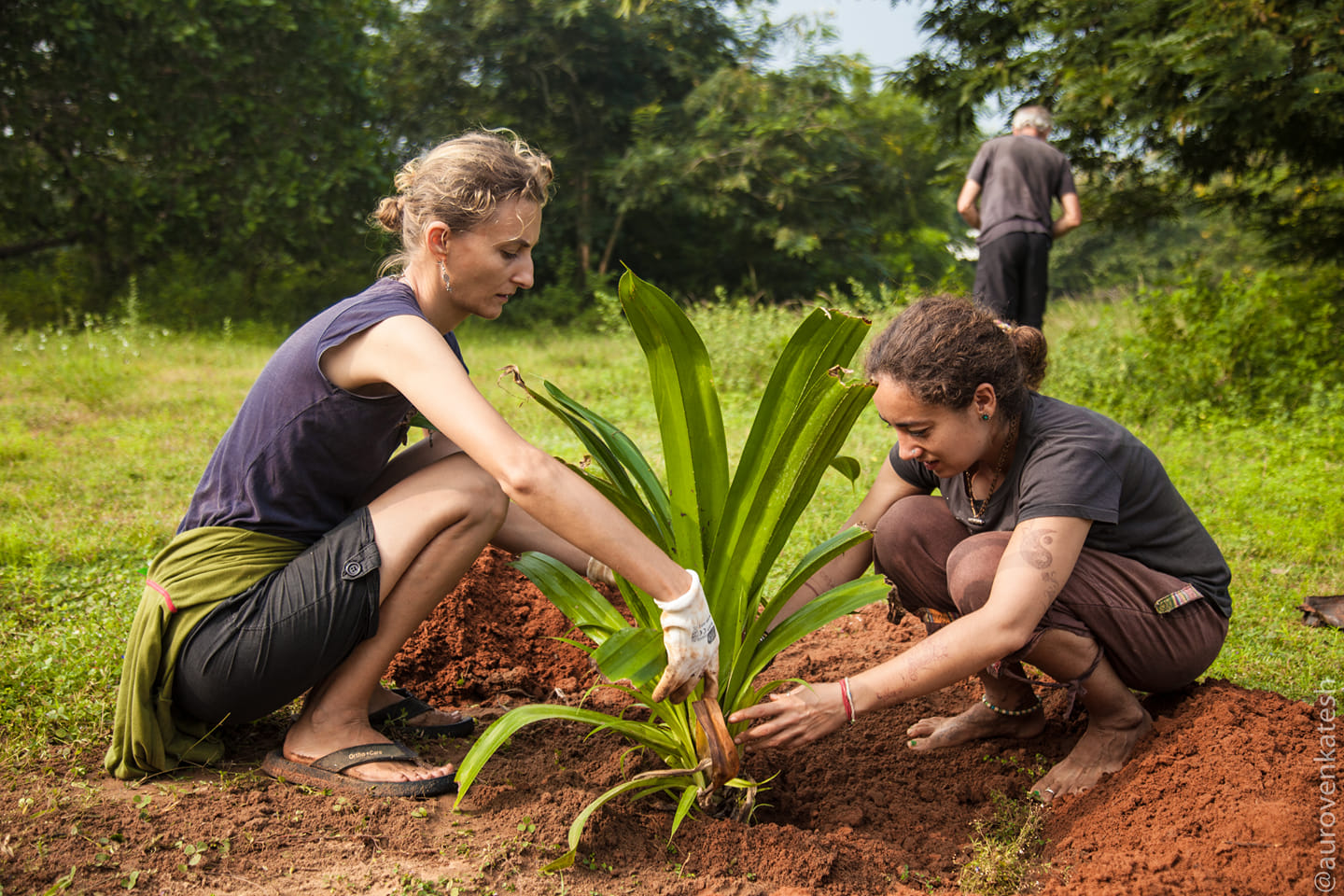 In JOI Anitya , this past year has been a time of transforming dreams into matter. We have been busy with getting infrastructure into the land, planting in the time of the rains, building common spaces even through the peak of summer. We are working with various people in and around Auroville, learning from their expertise – trying out models of working together to experiment and learn. Most of us in the community have no experience in construction and it has been quite a journey so far. Every day is rich with things to do, decisions to make, and sometimes it becomes important to step back and reflect.
How did we get here? There are memories of dreaming the grand ideas in the very beginning (the utopia in making!), the initial JOI Anitya members joining, the eventual shaping of a core community group, the decisions to take the community's raison d'étre in certain directions, of mapping it's potential path to manifest and grow, multiple gatherings with mentors within the Auroville community and outside - seeking advice from the wisdom of the experienced. We had to work within the Auroville governance structures to find a recognised identity for the community, to make decisions on the location of JOI Anitya, to do the necessary work to get allocated the land, to get building permissions and also the help of some initial funds to build. Our mission of being a nomadic community project, of only living on the land for a temporary time before moving after 5 years make for lofty aims! There was a lot of communication to do within the Auroville community in order to build trust and support for this specific community project.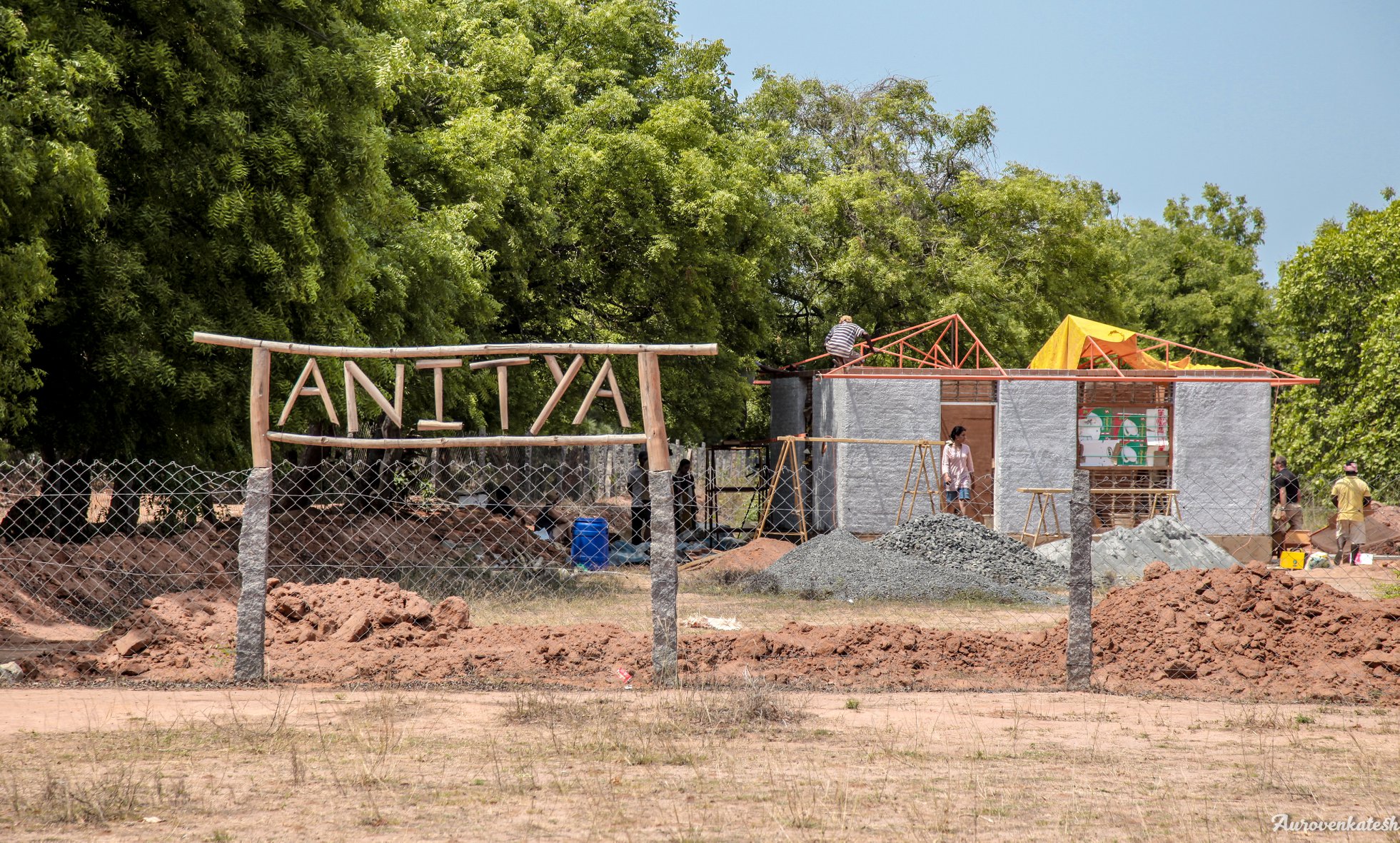 This need for trust also paralleled our group's journey itself. Even as our aspirations were clear, the initial core of the community that had formed (two of us joined later) had to go through its own internal processes, learning to communicate with each other during conflicts through the principles of Restorative Circles before even the first brick was laid on the land! As the community dream increasingly became real, questions outside of the missions, values and the physical design of the community included how decision-making functioned within the community, how economics/money would work, how to welcome volunteers and host guests, policies around couples breaking up, leaving and joining the community, and individual and collective roles and responsibilities. The decisions we made are still evolving organically as we grow with experience.
Things slowly started to manifest in matter. We fenced the land, brought in storage for tools, did the groundwater recharge landscaping and started planting trees in the rains. We have been lucky to receive a small GOI grant to help in bringing infrastructure and some collective spaces together. We put up our community kitchen, the first structure completed though our team effort. Our dreams were becoming real. What euphoria!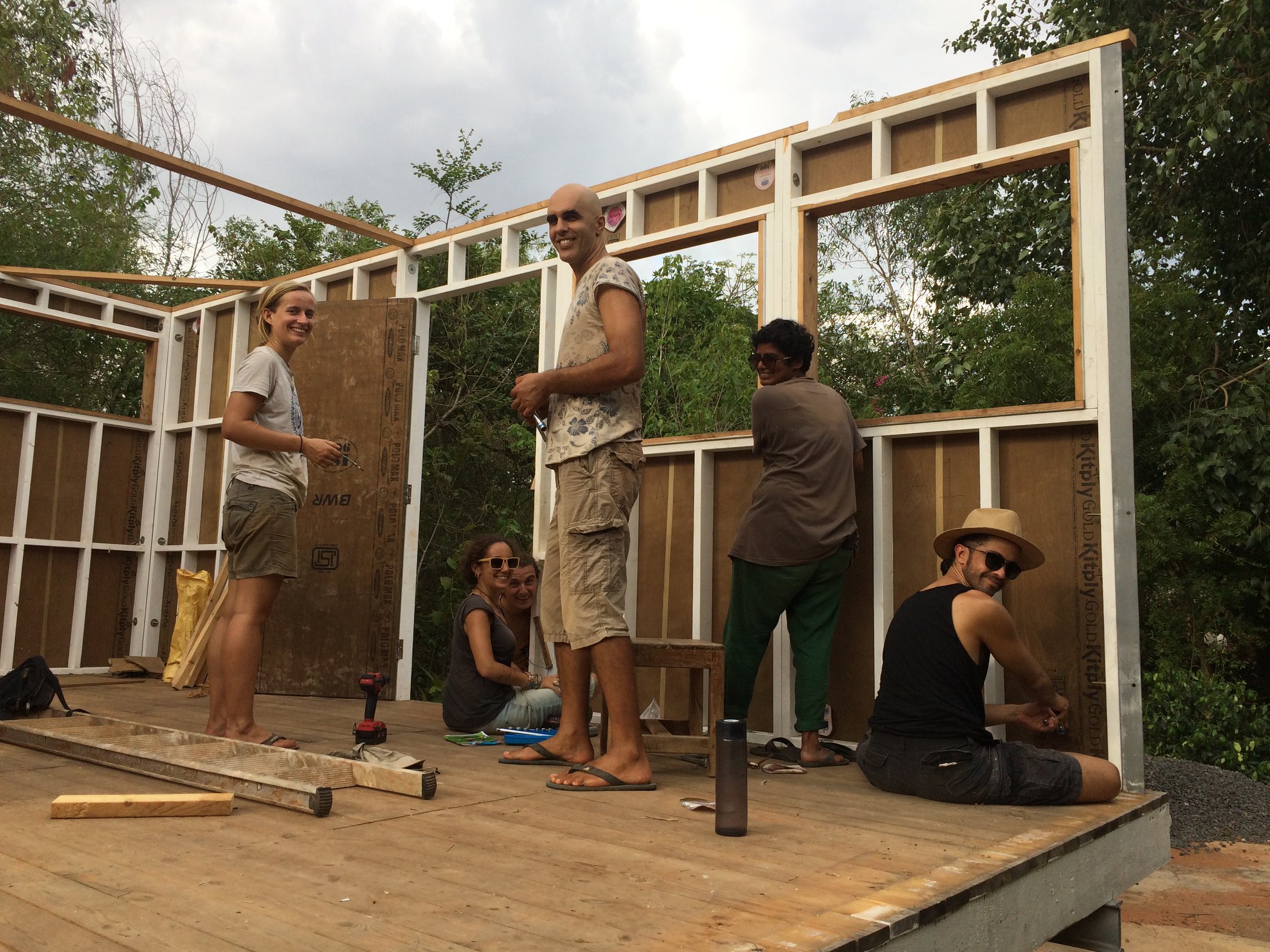 We spent four months manually digging a trench to bring infrastructure, i.e. electricity, water, optic fibre cables to the land, starting from Aurodam, through Sacred Groves and into Anitya . Pioneering spirit or foolishness? The opinions differ! Thankfully we had the support of 35 able-bodied volunteers through this process and the skilled help of a few hired labour who joined us at the end to finetune the trench.
We worked with Auroville Bamboo Centre to build a bamboo geodesic dome. This building will be the new home to the after-school program for children from Edayanchavadi village with Thamarai Community Learning Centre. Building small bridges with our neighbours, the original inhabitants of the land, has been a crucial endeavour for us. The children bring joy, hopes and their own aspirations for the future. This is a partnership we feel much alignment with.
We are currently working with Auroville Earth Institute to build our rammed earth co-working/social space. Due to delays in getting building permission, construction moved from December to April. Each of us take half day shifts on a work day running from 8 am to 5 pm working alongside AVEI's excellent team, slaving in the summer blaze, running counter to every part of our body screaming for rest from the sweltering heat. It is an exercise taken to fulfil a commitment and finding balance with our DIY philosophy, choosing to work alongside hired workers on site.
We are building a combination of dry compost toilets and showers, one structure built by Johnny, and a contracted one with Ecas, friends running a conscious architecture company outside of Auroville. The dry compost toilet is one we are passionate about in a time when groundwater levels are increasingly depleted, matching our aspiration to explore – as in Danish actress Jytte Abildstrøm's words, "how we may get the spiritual light to the bottom of the compost toilet."
There are many questions that have been alive for us through the journey so far– what does it mean to thrive in community? What makes a healthy community? How do we connect to one another, how do we connect to the wider circles of community around? What gifts and challenges does everyone bring into this project? How do we measure success? What happens when dreams meet reality? How do we stay true to our values? Are we making time to tap into the deep wisdom within and around? Collectively, are we making wise decisions? How do we make sure we celebrate even as life gets busier?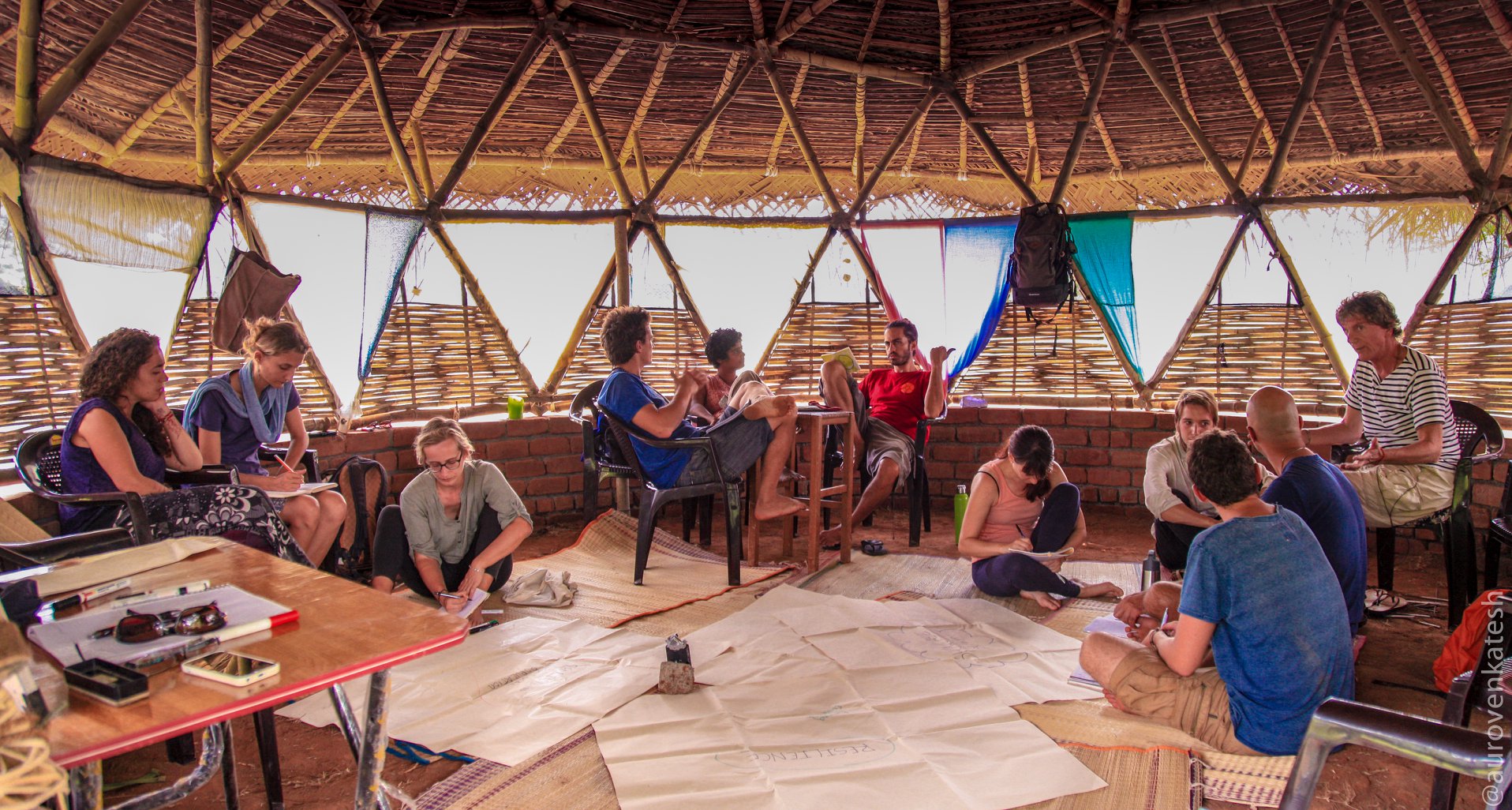 Sometimes, in our little microcosm of the wider human condition, we get lost in our concepts of who we think and say we are. JOI is 'this', JOI is 'that' and so on. There are those amongst us advising to go beyond them, to really work at truth behind the mental constructions that we show to the world, to not be afraid to let experience and wisdom guide difficult choices. The truest work is the hardest – it is in the internal, it is in working within ourselves and being deeply honest, in being mirrors for each other, in how we communicate with each other, in recognizing ego and balancing all the aspects of our integral self as we learn how to live and work together. We are taking baby steps in JOI Anitya . We are learning to respect diversity in the expression of people's' preferences for this work. We are slowly building trust amongst us, to be these conscious mirrors for each other.
Having the GOI grant has been an incredible blessing, making many things possible in a much shorter time. It would have been a much harder, longer path without this initial support. It has been challenging also, as the time frame and conditions of this money have led us to make rushed decisions, to compromise on some of our core values, and shifted the focus into one of solely working to finish our commitments. The reality is that at many points this past year the balance in the community work has moved towards purely manifesting the physical, leaving little room for bonding time and deeper awakened communication, and very little energy for many of us to spend time with our volunteers beyond work. It has also left us in a funny position of having a lot of community spaces, but no homes for us! When we finish with the grant in the the month of June, the hope moving forward is to be more conscious in our choices and to leave room for the richer, softer dimensions of the community dream.
As we are now more than two years into the community , we are discovering that JOI is more than just our prescribed goals. Each of us carries a personal dream of community, of this project. Each of us is forming our own relationships to the dream, the people and the land of this first manifestation. It is a very real process to observe the threads slowly binding us to each other and to this place. We are becoming part of the history of this land in its cycles of being. As the attachments form, as the pain comes at the thought of leaving behind all this hard work just to begin again, the question arises – can we let it go? Whether it is in the plants we seed, in the buildings we manifest, or the people flowing through, the reminders come to see a fuller picture of this work. There have already been so many volunteers and visitors who have come and gone, each taking away their dream of JOI, seeds to be sown elsewhere. The trees live on without us. The world continues. Even as we pioneer a tiny part of the grand Auroville adventure, we are left reflecting on this question: can we let Joy of Impermanence thrive and blossom without us?
- Nikethana Venkatesan, JOI Anitya community member

To follow our work please visit our facebook page. You can find us under the name Joy of Impermanence.