University of the Future: An Interactive Session with Sonam Wangchuk and Gitanjali JB
---
Posted on January 01, 2020
---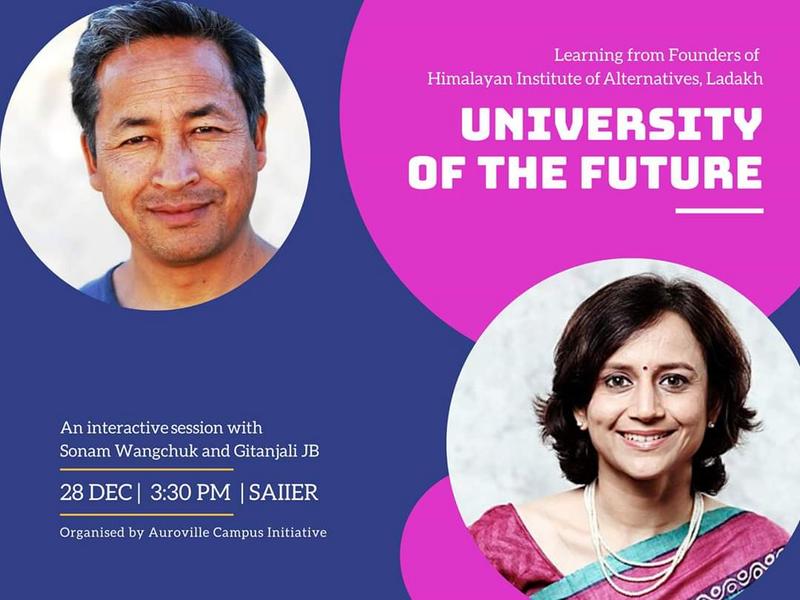 ---
An Interactive Session with Sonam Wangchuk and Gitanjali JB was organised by Auroville Campus Initiative at SAIIER Conference Hall on 28th Dec, 2019 at 3:30pm on "University of The Future". They spoke about how they developed a school for "failures" in Ladakh and how they are developing the
Himalayan Institute of Alternatives
in Ladakh.
The link to their talk can be found
here.
ABOUT HIAL:
HIAL is a collaborative exercise between learners and facilitators, and aims to inspire all seekers of knowledge to explore both outside and within themselves. Instead of solving problems with the conventional 3Rs (Reading, wRiting, and aRithmentic), we encourage learners to problem solve using the 3Hs: Bright Head, Kind Heart, and Skilled Hands. To successfully implement the 3Hs, HIAL has three guiding principles:
1. Learning by Doing
2. Collaborative Teaching
3. Research and Innovation
ABOUT GITANJALI JB & SONAM WANGCHUK:
Gitanjali
is a social entrepreneur and educationist. After having founded several business and social ventures, she is currently setting up Himalayan Institute of Alternatives, Ladakh, as its Founding member & CEO. HIAL is an alternative institute for mountain development that aims to revolutionise higher education in India through the pedagogy of contextual and experiential learning. Gitanjali is a spiritual seeker with a deep interest in Indian Spirituality. She is a lifelong student of Sri Aurobindo's philosophy, Vedas and the Upanishads.
Sonam Wangchuk
is an Indian engineer, innovator and education reformist.He is the founding-director of the Students' Educational and Cultural Movement of Ladakh (SECMOL), which was founded in 1988 by a group of students who had been in his own words, the 'victims' of an alien education system foisted on Ladakh. He is also known for designing the SECMOL campus that runs on solar energy and uses no fossil fuels for cooking, lighting or heating.
Wangchuk was instrumental in the launch of Operation New Hope in 1994, a collaboration of government, village communities and the civil society to bring reforms in the government school system. He invented the Ice Stupa technique that creates artificial glaciers, used for storing winter water in form of conical shaped ice heap.
Wangchuk came into the spotlight in 2009, when his story inspired Aamir Khan's character Phunsukh Wangdu or Rancchoddas Shyamaldas Chanchad (Rancho) in the Rajkumar Hirani directed film 3 Idiots.He has been referred as "The real life Phunsukh Wangdu".